Read Time:
2 Minute, 24 Second
One of the many benefits the Internet has given us is the democratization of the media. For years there has been a fierce debate on the merits of blogging versus journalism. Are bloggers journalists? Should journalists blog?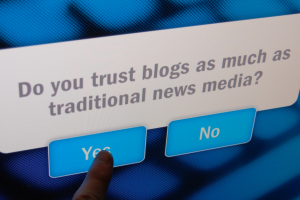 With avenues like blogs and other social media channels like Twitter, we the public have become the media.
Blogging
Jacob Friedman wrote a great post about blogging vs. journalism summarizing the debate. He concludes that blogging allows for more opinion and analysis, and if they investigate the topic, it is journalism.
The issues with blogging:
Posts were heavily laden with opinion
Speculation (without hands on investigation or in-person interviews) can be reported as fact
Quality of writing can be low
The benefits of blogging:
Provides forum for diverse range of ideas
Niche blogs provide more specialized content
Can be published and shared fast
It can be used as a 'training-wheels' for journalists
Can build a large and loyal following of readers
Journalism
Issues with journalism:
Reports facts without opinion or perspective
Standard news-story format might not be the most effective way to communicate certain messages/topics
Benefits of journalism:
Objective source of information due to personal detachment from words and/or story
Quality writing
Consistent publishing
This is a very simple overview of the debate. If you'd like to read more opinions, here are some posts:
Civic engagement/citizen journalism
Communication technologies allow for alternative media sources to have a platform. Many people use blogging and other forms of online media to participate in civic engagement. With this debate in mind, more formal platforms for citizen journalism have emerged. These websites demonstrate Kadushin's (2012) point that as informal networks grow, they tend to take on a more formal structure.
Indymedia
Indymedia.org is a collective independent media organization with hundreds of journalists that offers grassroots, non-corporate coverage. It is described as a "democratic media outlet for the creation of radical, accurate, and passionate telling of truth" (source).
WikiLeaks
WikiLeaks is described as an "international, online non-profit, journalistic organization that publishes secret information, news leaks and classified media from anonymous sources" (source).
For more examples, see Paul Sawers' post: "11 websites citizen journalists should know about". His list includes: Demotix, All Voices, Blottr, CNN iReport, Now Public, Ground Report, Wikinews, Digital Journal, Newsvine, News Participation, and Spot.us.
What do you think about the blogging vs. journalism debate? Have you participated in or read any of citizen journalism websites?