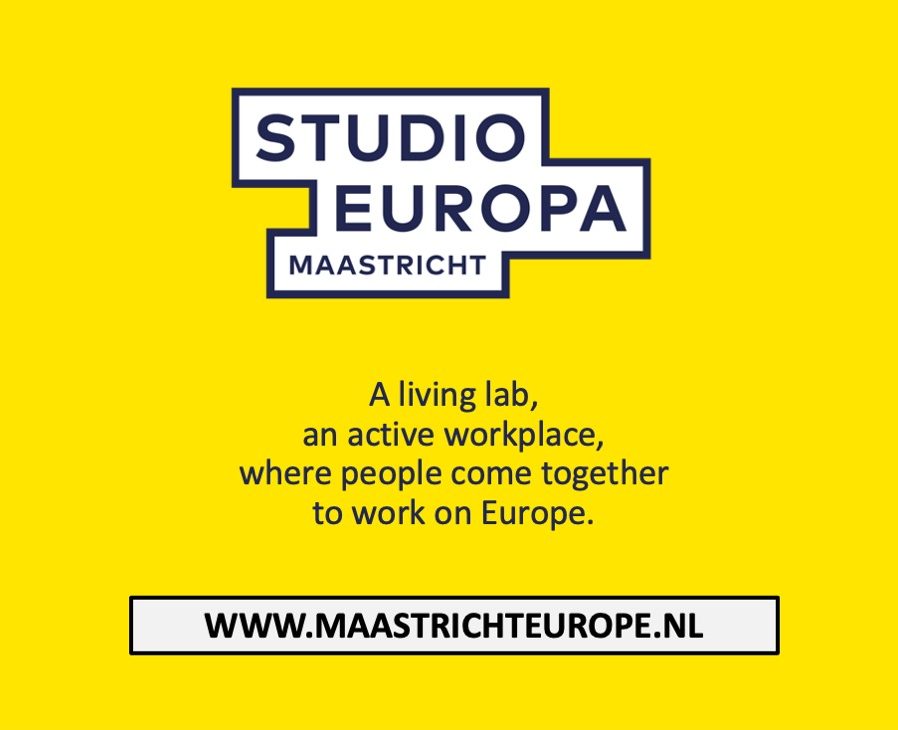 What is Studio Europa Maastricht?
Studio Europa Maastricht (SEM) is a partnership between Maastricht University, the Province of Limburg and the City of Maastricht who have come together to "Work on Europe."
SEM aims to demonstrate how Maastricht is a place for citizen dialogue and debate and can serve as a Centre for Excellence in research on Europe and European integration.
The three main branches of SEM are:
Research that is multidisciplinary, Europe-focused, and having societal impact
Stories that engage citizens to share their stories of Europe
Heritage of Europe, which includes a focus on the Maastricht Treat which holds the European Heritage Label (since 2018).
So what's the story?
SEM has both academic and non-academic staff who work together on Europe. I work closely with three other postdoctoral researchers and a few PhD candidates who are affiliated with SEM.
It is similar to my situation in Trinity College Dublin, where as a PhD candidate, I had supervisors in the School of Languages, Literatures and Cultural Studies and the School of Computer Science and Statistics but my "home base" was the ADAPT Centre. In Maastricht I have mentors in the Faculty of Arts and Social Science and the Faculty of Science and Engineering, but my "home base" is SEM.
Since working across disciplines and faculties is one of my strengths, I look forward to the results of these collaborations. For example, I already had the pleasure of meeting some of the project partners working on the Terra Mosana project at UM. The Terra Mosana project touches on the same themes of my research at SEM, which are Euregio Meuse-Rhine tourism and shared identity created through the digital exploration of the cultural heritage of the region.
I was hired as a postdoctoral research under theme 2: "Heritage, Identity and Citizens' Perspective" where I proposed to focus on creative digital placemaking for communicating shared heritage and identity according to different citizens' perspectives in the Euregio Meuse-Rhine. Building on my PhD research in digital storytelling methods and media for cultural heritage (e.g., transmedia practices), this postdoc ventures even further into location-specific digital narratives.
What's my research about?
Rather than reading some text describing my research, check out the rapid-fire introduction to the topic in the video below.
On 8 March, I presented this introduction to my research project. This was part of the Women's Researcher's Festival at the Maastricht University (UM) in celebration of International Women's Day. The event was hosted by Pint of Science Netherland and FEM Maastricht (Female Empowerment Group) at UM.
What am I working on right now?
I am organising a public Virtual Panel Discussion:
"European Heritage and Identity: Stories from Border Regions"
Date: 15 April 2021
Time: 14:00 – 16:00 CET (Amsterdam time)
This panel brings together researchers who focus on different aspects of what happens to history and heritage in multicultural European societies and particularly those in the border regions over time.
This panel was inspired by the visiting research fellowship I recently completed (September – December 2020) at the Centre for Contemporary and Digital History (C2DH) at the University of Luxembourg.
Since these former industrial regions in France, Luxembourg, Belgium, Netherlands and Germany have coped with similar challenges including the decline of the mining industry and changing borders, this panel aims to help us understand what opportunities lie in engaging local communities in research and how this can contribute to creating a sense of shared European heritage and identity.
The Panellists are:
Dr. Joep Leerssen, Research Professorship in Transnational History and Culture in Limburg (UM) & Professor of Modern European Literature (University of Amsterdam)
Eline Schmeets, PhD Candidate, Studio Europa
Dr. Christoph Brüll, Assistant Professor, C2DH, University of Luxembourg
Irene Portas Vázquez, PhD candidate, C2DH, University of Luxembourg
It will be moderated by me, Dr. Nicole Basaraba, Postdoctoral Researcher, Studio Europa, and I will have the assistance of Akudo McGee, PhD Candidate, Studio Europa, who will help facilitate that audience Q&A.
This event is open to, and warmly welcomes, members of the public to attend and engage in a Q&A session at the end of the panel discussion.
This webinar will take place on Zoom and will be recorded.
You can register for the event here!