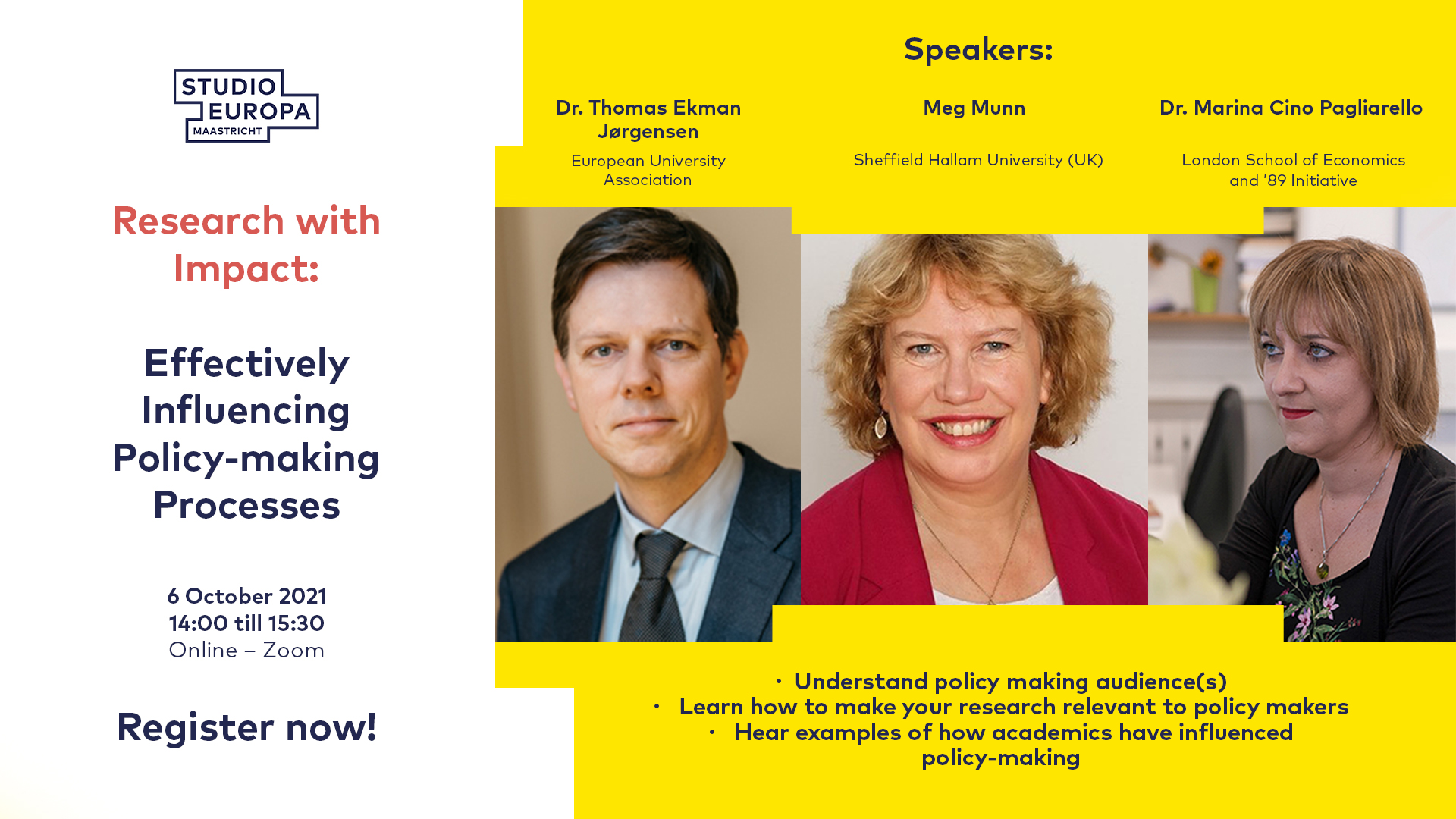 Are you a researcher who is curious about influencing policy-making?
To register for the Zoom event, click here.
Researchers often provide a variety of solid evidence-based outcomes that can support the development of better policies and programmes at various levels of government. Policy-makers — whether at the local, national, or international level — need more and easier access to high-quality research. However, considering the quantity and quality of research produced by universities and despite policymakers needing better and easier access to high-quality research, why is it that influencing policies and practices is so rare?
This event, hosted by Studio Europa Maastricht, aims to provide insight into this question to understand the gap between academic research and policymaking processes at the European Union and national levels. The event will highlight some best practices and techniques on how researchers can improve the translation of their research into a user-friendly form and facilitate engagement with policymakers and other public servants. Each of the three speakers, who are experts in policymaking processes, will provide their advice on creating impact.
In addition to this, the Maastricht University (UM) recently released their vision on 'Recognition and Rewards' with its commitment to creating diversified and vitalised academic career paths, of which 'Impact' was a crucial component. For the UM community, this reignites the drive to examine the links between research and pressing societal challenges, and to consider how research can have an impact beyond its academic contributions. One such method is to support policymaking practices for the development of better evidence-based policies and programmes fit for the societies that we study and are part of.
At the end of this session, researchers should have a better idea of all the possible methods for using their academic expertise to influence policy-making audiences and public debates.
Understanding policy-making audience(s)
Dr. Thomas Ekman Jørgensen's talk will focus on how understanding the addressee (i.e., policy makers) and the political processes they are part of. This in turn, can help you understand why and how your work helps them and it is crucial for getting your message through. This can be done in different ways, depending on whether you want to give visibility to a general topic, influence a policy process, or promote a new idea.
How to make your research relevant to policy-makers
Ms. Munn will focus on discussing the difficulties and challenges of using academic research in policymaking. She will share experiences of when research has been useful and why, and why she believes the gap between academia and policymaking exists. What needs to be done by researchers to ensure their research is accessible, useful, and effective for policy-makers in their day-to-day work.
Examples of academics influencing policy-making
Dr. Marina Cino Pagliarello will present on the topic of "Evidence-based policy: What works in public policy?" where she will discuss her role with 89initiative as Research Director of the Civic education and populism project, and how to bridge the gap between policy practice and academic research. She will also draw upon her experience as consultant for LSE consultancy in terms of how academics can engage with policy practice.
 Meet the policy experts:
Dr. Thomas Ekman Jørgensen is Senior Policy Coordinator at the European University Association (EUA), which represents 800 universities across 48 countries. He ensures coherent policies for universities, overall policy development, and managing cross-cutting issues with policy relevance. He has worked on topics including sustainable development, Brexit, and EU foreign policy. Previously, Dr Jørgensen was the Head of the Council for Doctoral Education at EUA for several years. He studied History and German Studies at the University of Copenhagen and the Free University Berlin. He received his PhD in History and Civilisation from the European University Institute in Florence in 2004 and worked as a postdoctoral fellow at the University of Copenhagen and at the Université libre de Bruxelles.
Meg Munn concurrently holds multiple positions. At Sheffield Hallam University she is the ProChancellor and Deputy Chair of the Board of Governors, Chair of the Finance and Employment Committee, and sits on the Board of Governors. She is also the Independent Chair of the Church of England's National Safeguarding Panel. She has worked with the Inter-Parliamentary Union (IPU), UN Development Programme (UNDP), the OECD, Global Partners Governance and the OSCE. She has led induction programmes for new MPs, and mentored women MPs. She has worked in the Middle East, North and East Africa and the Pacific. She was a Member of Parliament in the UK (2001-15), which included being Minister for Women and Equality (2005-07) and a Minister at the Foreign and Commonwealth Office (2007-08). Before entering parliament, Meg had twenty years' experience in the social work profession.
Dr. Marina Cino Pagliarello holds a PhD in European Political Economy from the London School of Economics (LSE) European Institute, where she currently works as Teaching Fellow in European Politics and Public Policy. Marina has worked as education policy researcher and specialist with national/international organisations and governments for over 15 years. Her research interests include public policy, the politics of education, and the Western Balkans. She investigates the role of political and economic actors in shaping public policies and the mechanisms through which ideas play a role in the emergence of new problem definitions and in restructuring actors' interests. Marina is also Research Director of the project 'Civic education and populism', which is part of the activities of 89Initiative/ LSE.
Programme:
| | | |
| --- | --- | --- |
| Time | Topic | Who |
| 14:00 – 14:10 | Welcome and Speaker Introductions | Studio Europa Maastricht |
| 14:10 – 14:30 | Understanding policy-making audience(s) | Dr. Thomas Jorgensen |
| 14:30 – 14:50 | How to make your research relevant to policy makers | Meg Munn |
| 14:50 – 15:10 | Examples of academics influencing policy-making | Dr. Marina Cino Pagliarello |
| 15:10 – 15:25 | Questions from audience | Studio Europa Maastricht |
| 15:30 | Closing remarks | Studio Europa Maastricht |
---
This event is being organised and hosted by:
Nicole Basaraba, Postdoctoral Researcher, Studio Europa Maastricht
Claire Fenwick, Postdoctoral Researcher, Studio Europa Maastricht
Akudo McGee, PhD Candidate, Studio Europa Maastricht
The event is aimed at researchers at all levels (young researchers to senior academics) from all disciplines within Maastricht University, other research institutions, and policy makers who are interested in working with or hearing from researchers.
To register for the Zoom event, click the link below:
https://maastrichtuniversity.zoom.us/webinar/register/WN_h3bEZ0-fRiOSq_tghWaTSA