Cavern, an import retail cheese vendor and cafe/bar that has a choice wine list, spirits and heartwarming caffeinated beverages. It's always a bonus when you hear about a new place from a friend and Cavern lived up to it's reputation.
The Concept
Cavern is a specialty retail cheese shop that also has the option of sit-in dining. It serves a variety of pastries and coffee for breakfast, select sandwiches at lunch, and cheese and charcuterie boards for the times in between. It has carefully selected wine and spirit lists.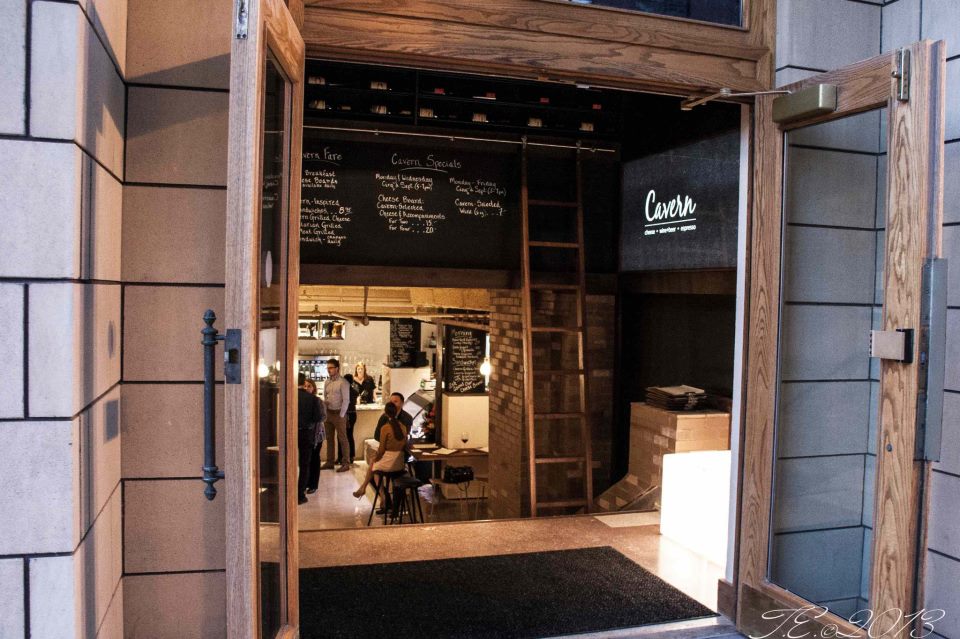 The Menu
There are 75-80 cheeses with many from Quebec, France and Alberta. There are five categories of cheeses: fresh goat, bloomy rind, washed rind, semi-firm and firm, and blue-veined.
My friend and I ordered a charcuterie board with a goat cheese and a firm cheese, Comte, from France. One thing to note is that not all the cheeses they have in store are available for sit-in dining. The owner, Tricia Bell, kindly explained that they cannot serve a small piece of every cheese because it makes them harder to keep fresh for purchase (take-home).
The charcuterie board came with a specialty dried beef from Switzerland, bundnerfleisch, which was thinly sliced. Being the non-foodie that I am, I would describe it as a moist, smooth beef jerky (and that's probably an abominable description so you'll have to go try it for yourself). We also had some chorizo which had just the right amount of kick to it.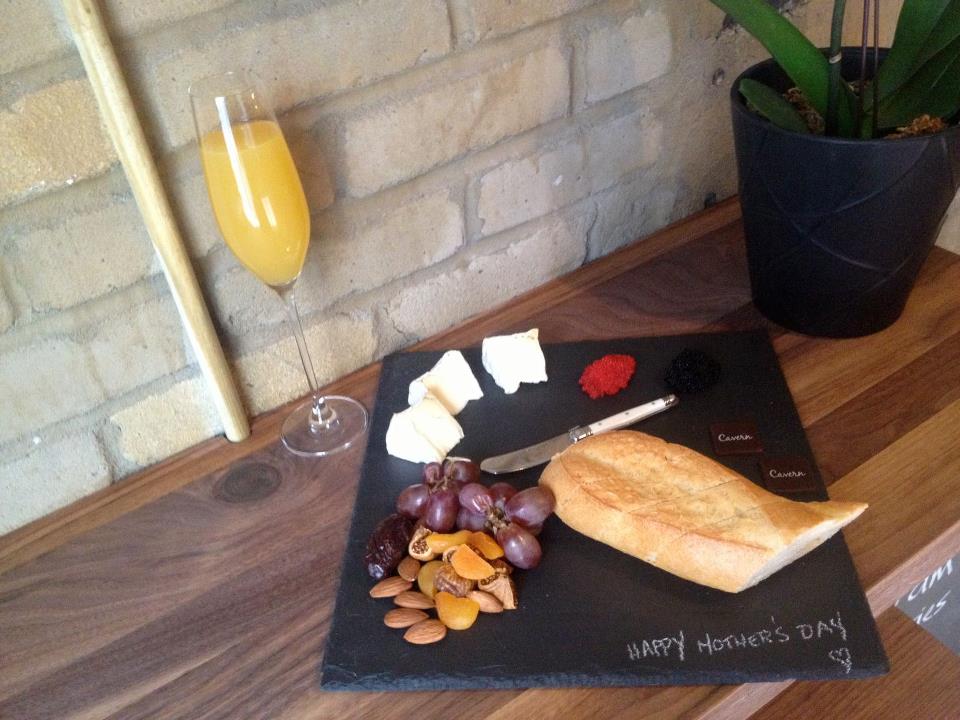 The board also came with fresh baguette, green jelly, a few slices of a fruit-and-nut loaf, dried apricots, figs, walnuts and almonds, slices of pear, and a cluster of red grapes. It was served on a beautiful charcoal stone board.
When it was first brought to the table, I thought I could have ordered a whole board designed for two just for myself, but after chatting and sampling for over two hours, I was full when we finished. I couldn't have eaten it all myself, even though I desired more because it was so delicious. It's hard for me to think of a better mix of foods to fill up on than this charcuterie board.
To satisfy my craving for more, I went home with some Comte cheese after spending at least 15 minutes talking with the staff about the selections. It wasn't an easy choice. My friend also went home with some goat cheese that was imprinted with real pink flower petals on top (which are edible by the way). It was the prettiest cheese I had ever seen.
I will have to return to indulge in the chocolate cheese dessert and coffee.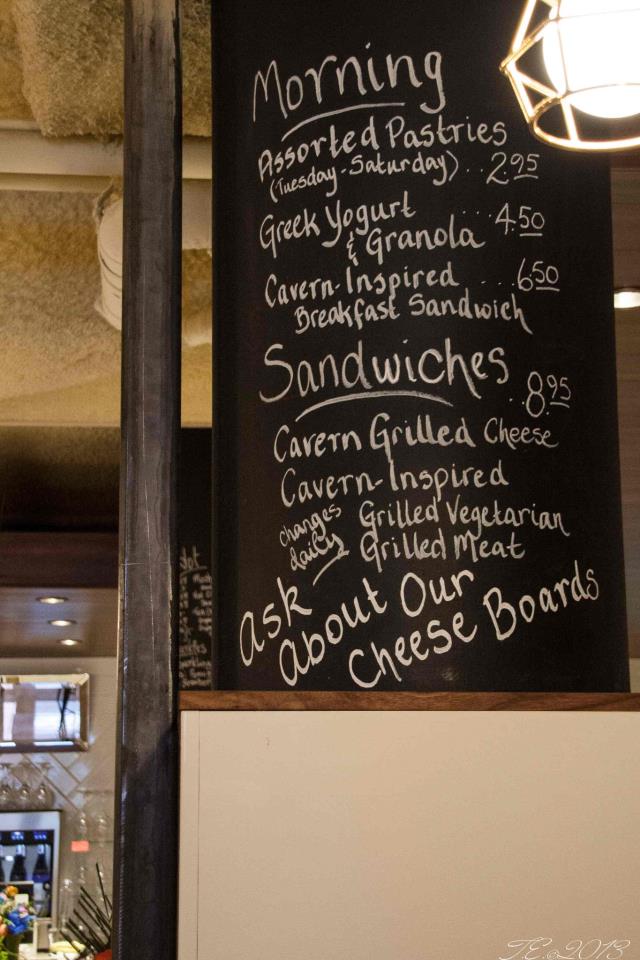 The Atmosphere
I can't overlook the name: Cavern. Located below ground on 104 street, it feels like you're entering a cave although the decor instantly makes you feel like you've stepped into a French cheese shop. It also functions as a wine cave as there is a special refrigerator with the different wines chilled to very specific temperatures.
The lighting casts a warm yellow glow over all the small wooden tables and cheese display is brightly lit so you can see all the different colours, shapes, sizes, names and regions of the cheeses.
I went on a Friday evening and there was an upscale crowd with groups between two to four people at each table. I overheard conversations in French and I saw two women who entered together who (at my guess) looked Eastern European. It has been almost a full year since I've moved back from Belgium and it was comforting to hear people speaking in other languages and dressing in unique fashions.
The Service
Tricia was very welcoming. I immediately noticed that she was a sophisticated lady and she demonstrated this again when she served us. I appreciated that she named the cheeses and the wine. It adds to the experience of enjoying fine food, it helps you remember exactly what it was you ordered, and it makes you appreciate that she can pronounce everything in a perfect accent so you feel even more like you're in Europe while in her store. The other two staff that were there also checked in on us and were very polite. The best part was that they never tried to hurry us out. They treated us like guests rather than patrons.
In addition to offering unique fair, an ambient atmosphere and well-versed and knowledgeable staff, the full package leaves a lasting effect and makes you want to return so you can experience it all again.
Have you been to Cavern? What's you're favorite cheese? Have you been to a place that offers the full package?