De Dutch is a restaurant that specializes in breakfast and lunch and it's the place to go for Dutch pancakes (pannekoeken) in Edmonton, Alberta.
Having been to the Netherlands myself and eaten pannekoeken, I'd say that this Canadian chain does a good job of creating an authentic Dutch dish.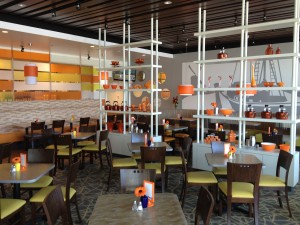 The history
The story goes: John Dys, founder of De Dutch restaurants, emigrated to Canada from The Netherlands. His first job in Vancouver was working in a restaurant and then he subsequently opened his own restaurant in 1970 and called it the "Frying Dutchmen", which became famous for its hamburgers.
Then on a trip home to The Netherlands, John had pannekoeken and decided that he would bring them back to Canada. He opened the first Original Dutch Pannekoek House in 1975 in Vancouver, which is still in operation today. Thereafter, he opened the Frying Dutchmen franchaise in 1979 and there are now 23 restaurants in total.
The Food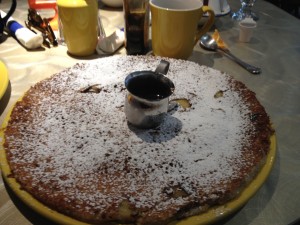 The Original Dutch Pannekoek House, now known as De Dutch, in Edmonton, has a variety of savory and sweet traditional Dutch pancakes. I always opt for the sweet pancakes. Not a fan of the fluffy Canadian-style pancakes, I enjoyed the thin pizza-sized pannekoek with a circumference of 37 inches and a diameter of 12 inches.
I chose the banana walnut pannekoek with maple syrup. I was surprised and impressed that the bananas were cooked into the pannekoek and that it was packed with walnuts. Usually anything coming with nuts in a Canadian restaurant, they act as more of a garnish. It was a treat to get a good serving of walnuts and cooked banana with each bite. Although, the pannekoek was covered in icing sugar and maple syrup, it wasn't too sweet.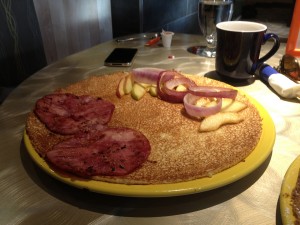 My dining companion opted for the savory-sweet Apple, Debakon and Onion pannekoek with Stroop (Dutch syrup). The yellow apple was also cooked and was laid out in a line along one side of the pannekoek. The apple was topped with rings of red onion next to the debakon (thin slices of cooked ham, a less fatty version of bacon). The Dutch syrup smelled like burnt caramel. I didn't taste the stroop myself and my dining companion chose to use maple syrup instead after trying the unfamiliar stroop. I did try this sweet-savoury pannekoek and enjoyed it so much that I said I would get that one next time. In hindsight, there are so many delicious options for pannekoek on the menu, I will try something different next time and also convince whomever I'm with to choose one I haven't tried yet so I can work my way towards tasting them all.
If you're not into pannekoek, they also have a variety of more Canadian-style breakfasts including eggs cooked anyway you like. There are also lunch options on the menu including some huge Frying Dutchman hamburgers and Dutch Toasties (fancy grilled cheese). They also have Edam cheese in a few items on their menu and it is nice to see this familiar Dutch cheese in Edmonton.
The Atmosphere
The décor in De Dutch was inviting with the rounded grey booths along the wall, bright chandeliers and fancy orange glassware on the shelves. The Dutch are known to celebrate the successes of William I, Prince of Orange and the tasteful presence of the colour throughout the restaurant made me smile and reminded me of my visits to the Netherlands.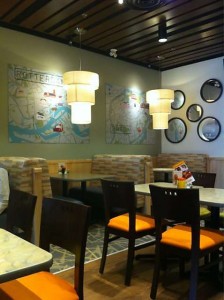 I loved the two clocks on the wall at the back; one with Edmonton time and the other with Amsterdam time. I was eating my pannekoek around 7:00pm Amsterdam time and if I were in the Netherlands at that moment, I probably would have chosen a savoury pannekoek instead. The round clocks fit well with the round ship-like portholes in the wall acting as windows into the kitchen.
With a fresh flower on each table and the maple syrup served in a glass dispenser, this breakfast/brunch restaurant has a classy atmosphere.
The Service
The hostesses and waitresses were older ladies, which is refreshing. They were dressed in their own clothes, but they all opted for a pretty dress or skirt. They looked professional and were very friendly. They provided what I would describe as small-town service. They cared as to whether or not you liked the pannekoek and the stroop. They were open and casually asked what our plans were for the rest of the day. They made me want to come back and have them as a server again.
They never let you run out of coffee, which is one of the most important aspects of breakfast/brunch. There were three servers walking by with pots of coffee, each checking every table to ensure that nobody was lacking caffeine.
The Experience
Overall I enjoyed the whole experience. The only thing lacking at De Dutch was an expanded coffee menu. They could add a cappuccino, latte, espresso and hot chocolate to the menu. It happened more than once while I was traveling in The Netherlands for the waiter/waitress to offer alcohol with breakfast like champagne or a shot of amaretto to accompany a short strong coffee topped with whip cream. Not saying that I would order this and this is probably true of other Canadians as well, but it would make the restaurant even more authentically Dutch.
I'll definitely be going back to De Dutch for pannekoeken soon as it has become one of my favourite places for breakfast/brunch in Edmonton. I might even have to go for lunch to try a Dutch Tostie too.
Have you been to De Dutch in British Columbia or Alberta? Have you ever tried pannekoeken and if so what do you think? Do you have a favorite European/foreign-themed restaurant in your hometown?